Emergency Locksmith Charleston SC
Thieves and Burglars do not take vacations and that is why we are committed 24 hours a day to supplying the community with lock repairs, lock installations, and professional lock picking. Our technicians are working around the clock to improve the well being of the residents, businesses, and motor vehicles. Elizabeth and Father are here to respond to emergencies the moment they happen and we are experts in all forms of security. When something goes wrong, Contact Us at 843-410-0192 and a technician will be on the way immediately with all the right gizmos and gadgets. There has never been a more comprehensive service.
Do you require 24/7 service? Our Locksmiths Will Provide
Getting a 24/7 service is what every customer wants. Choose a 24 Hour Locksmith Charleston who is always available. You will get assistance whenever you need it. We deal in all sorts of services including rekeying, removing broken locks and even selling locks. For all your needs when it comes to locks we are a one stop shop. You do not have to look anywhere else. The choice is right in front of you. The service is guaranteed and there is nothing that should worry you. Make the right choice by choosing someone who will give you the services that you need.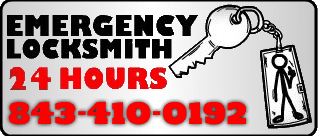 Let 24/7 Emergency Locksmith Charleston Provide You with a Security Solution
There is nothing good like being able to access security services at any time. In Charleston, finding a locksmith company that offers its clients with a 24/7 emergency service is very easy. Emergencies occur when we least expect. For this and other reasons, Elizabeth and Father Locks 24 hour services are always available when you need them most. Thus we have put in place mechanisms that enable us to dispatch the locksmith intend to cater for your emergency problem. Since we are 100% insured there is completely no course to doubt our services. In case you want deadbolt locks, home and car lockouts, key replacement or any other high security locks, we are only a call away!
Locksmith Charleston Has a Radio-Dispatched Communication System at Your Service
At times the need for a locksmith may arise late in the night or the early hours of the morning and holidays when you least expect to get someone awake to help you. Elizabeth and Father Locks 24 Hour Emergency understand this and we are always prepared for any emergency. In fact that explains why we have developed a radio-dispatched communication system as a backup for our 24/7 emergency services all year round. Regardless of time, you will always get a professional to serve you. We know what your residential, automotive or commercial security needs mean not only to you but to us as well. We will ensure to get everything fixed in good time and affordably.

Elizabeth and Father Locks Emergency is Fully Mobile for Your Convenience

Our team is a fully equipped mobile task force and it is important to all us that you are safe at home or the workplace. There is no reason to put at risk the security of your property because of a malfunctioning lock. This is the team that was built around the understanding that a good lock is a functioning lock. Any property that does not have properly functioning locks is a sitting duck for opportunistic criminals. Don't give thieves and burglars the advantage. Call us when you need someone to come by and help you achieve a healthier security.
Related Searches: locksmith Charleston, automotive Locksmith, commercial locksmith, 24 hour locksmith, locksmith in Summerville SC, locksmith near me and more…
About Emergency Locksmith Charleston